Archive for 'Uncategorized'
July 24th, 2017. Human Avatars, News Coverage, Personality Archiving, Uncategorized. No Comments.
A recent tech story that illustrates the idea of using today's digital tools to pay "yourself forward" to future generations, caught my eye this week.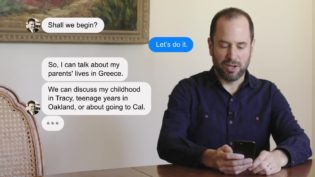 The news article was Wired Magazine's article  "How a Son Made a Chatbot of His Dying Dad.. James Vlahos' father was dying, so he set out to save his dad's memories and code them into a 'Dadbot' that lives on his phone."  The motivation to stay connected via a "soulful" chat using the technology of chatbot software, I thought was both innovative and touching. Now that online tools like chatbots are becoming more accessible we may see the emergence of new ways of staying connected with the people we care about.
Since 2006,  here at the Lifenaut project, we've been offering participants in our "mind uploading experiment" the opportunity to  create  "Mindfiles" and "Avatar chatbots" that can preserve your  "essential mental characteristics"  for the future.  Even after spending only a few days of creating and training your photo based Lifenaut avatar, you can start to see a digital representative that can give future family and friends  access to a collection of  your "Bemes"  (think personal "memes") which are made up of the patterns of information contained in your "memories, values, attitudes, mannerisms and behavior".  I can imagine a day when it will be quite ordinary to put as much effort into creating an interactive avatar/chatbot that can represent you long after your "biology" as passed with future branches of  your family tree. In fact a new meme may emerge that "Its never to late to start backing yourself up" and there maybe both short term and long term benefits to be enjoyed by those of us who are curious about using today's tech to stay in touch with the future.
March 29th, 2017. News, News Coverage, Uncategorized. 3 Comments.
NYT Photography; "One of the most amazing parts of Mr. Aguilera-Hellweg's book comes at the end, where he has pictures of Bina48, a geminoid bust made by Martine Rothblatt to resemble her spouse, Bina Rothblatt, who spent 20 hours recording her life history. Those recordings were programmed into the machine, along with other algorithms, to create consciousness."
September 20th, 2016. Lifenaut Users, Uncategorized. No Comments.
At LifeNaut.com we are always looking for inspired and dynamic Volunteers and Interns that would like to contribute to the growth and development of the LifeNaut Project.
If you have skills in Mentoring, Web/Mobile App Development,PR,Marketing,Volunteer Engagement and Social Networking please visit our Volunteer Sign-Up link or send us an email (terasm@gmavt.net) and we will contact you to explore volunteer opportunities.
Bruce Duncan,  Volunteer Coordinator at LifeNaut.com
April 18th, 2016. Uncategorized. 4 Comments.
April 18th, 2016
CBS NEWS NY is featuring the Terasem Movement Foundation and the LifeNaut Project in a story airing on Thursday, April 28th at 11pm.
As part of the story, we'd like to include local people in the NY/NJ/CT area who have signed up and are in the process of uploading their "mind files."
If you would like to share your experience so far, they welcome you to email or call Mary McGeever, 212-975-5623 or mmmcgeever@cbs.com
August 27th, 2015. Uncategorized. No Comments.
The Mind First Foundation & the Personal Genome Project at Harvard University are hosting a conference featuring the cutting edge of neuroscience, biology, cognitive science, AI, and open-access research. Register to attend for 60% off the public rate by using the code Lifenauts@MindEx2015 and join in the hands-on, brains-on experience. Meet leaders & pioneers in genomics, microbiomics, neuroscience, psychology, artificial intelligence, participatory research, citizen science, and open-access research, including Drs. Martine Rothblatt, Ed Boyden, George Church, and Ronald Kessler.
Learn how to join thousands of others in using your own data to contribute to research around the world.
https://mindex.eventbrite.com
Promo Code for 60% Off Registration: Lifenauts@MindEx2015
July 18th, 2012. Bionics, Human Avatars, Lifenaut Users, News, Personality Archiving, Robotics, Uncategorized. No Comments.
Excellent article about Bina48, LifeNaut and Androids in the July 2012 #5 Huffington (Post) magazine.
LifeNaut and Bina48 (and Bruce Duncan) in the news …Huffington Post  click here to read.
October 10th, 2010. Uncategorized. 2 Comments.
In his January 2010, essay "Killed by Bad Philosophy"  Ken Hayworth discusses "mind uploading" from a philosophical perspective that includes a discussion of "what is the self" and a warning to not let current "scientific" philosophy lead to a "fatal" error in judgement about the possibility of "mind uploading".  http://www.brainpreservation.org/documents/killed_by_bad_philosophy.pdf . I found his essay to be a fairly comprehensive look at several aspects of mind uploading. On the subject of what makes you "u", he recognizes that the "self" is constantly evolving and being developed by the moment to moment experiences and memories we build everyday and is different from our "sense of being present" .e.g POV self.  At LifeNaut.com we encourage interested people to get  started early building a "mind-file", so as to capture as many 'Bemes' (memories,attitudes,values, beliefs and mannerisms) to  be ahead of the curve, when AI software called " mind-ware" can one day use that information to transfer your "unique' information / consciousness to new forms eg. robots, computers, bodies.
September 27th, 2010. Uncategorized. No Comments.
At www.LifeNaut.com, we are often asked how would it work and why would you want to create a Mindflile. Creating a digital record (Mindfile) of a person's unique characteristics (attitudes,values,mannerisms, and beliefs) may one day enable artificial intelligence software to transfer "a good enough copy" a person's mind to a computer and one day even download it into a new body?  This is an interesting talk on the subject given by Dr. Martine Rothblatt at the ASIM Expert Series….
Martine Rothblatt gave an ASIM Expert Series talk in Teleplace on "Reconstructing Minds from Software Mindfiles" on Saturday September 18, 2010.
Abstract: "I do think, however, there is a (natural) tendency to way overestimate the importance of copying our brain structure to copying our minds. I think our minds will be uploadable in good enough shape to satisfy most everyone by reconstructing them from information stored in software mind files such as diaries, videos, personality inventories, saved google voice conversations, chats, and chatbot conversations. The reconstruction process will be iteratively achieved with AI software designed for this purpose, dubbed mindware."    Learn More…..